Information Session - 7/26, 10 AM
Are you a passionate individual looking to impact the environment while gaining valuable on-the-job training positively?
The Greater Valley Conservation Corps (GVCC) invites you to their upcoming Information Session on Wednesday, July 26th, at 10 am. This event will be held at 14993 Camage Ave. Sonora, CA, promises to be an exciting opportunity for all interested in becoming part of a dynamic and impactful program.
The GVCC is dedicated to preserving and protecting the natural resources of our beautiful region while providing career pathways for ambitious young adults. This program, proudly supported by Columbia College and the local community, offers an exceptional chance to work hand in hand with nature, contributing to forestry and conservation efforts that make a difference.
The GVCC is looking for young adults ages 18 to 26:
Who want to improve communities and our environment every day
Who want to earn a high school diploma or GED
Who have a high school diploma or GED
Who want to earn scholarships
Who want to earn industry-recognized certificates
Who want to gain career development and life skills
Who want to earn a competitive wage
Are you wondering if you're eligible for this remarkable opportunity? Have questions about the program? Don't hesitate to contact GVCC at (209) 401-1112 to RSVP or inquire about the program's eligibility criteria.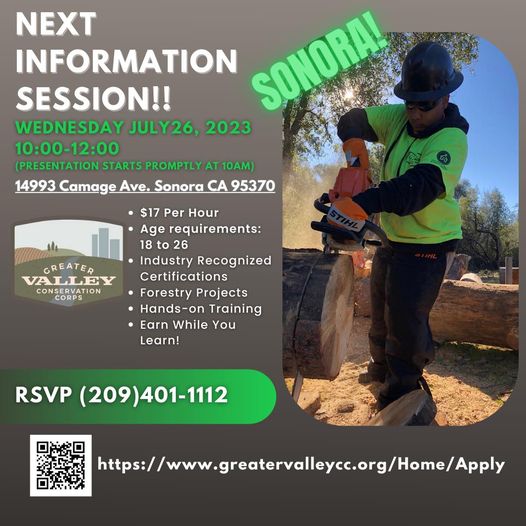 A Rare Celestial Treat in October 2023 and April 2024 – A Learning Adventure for All