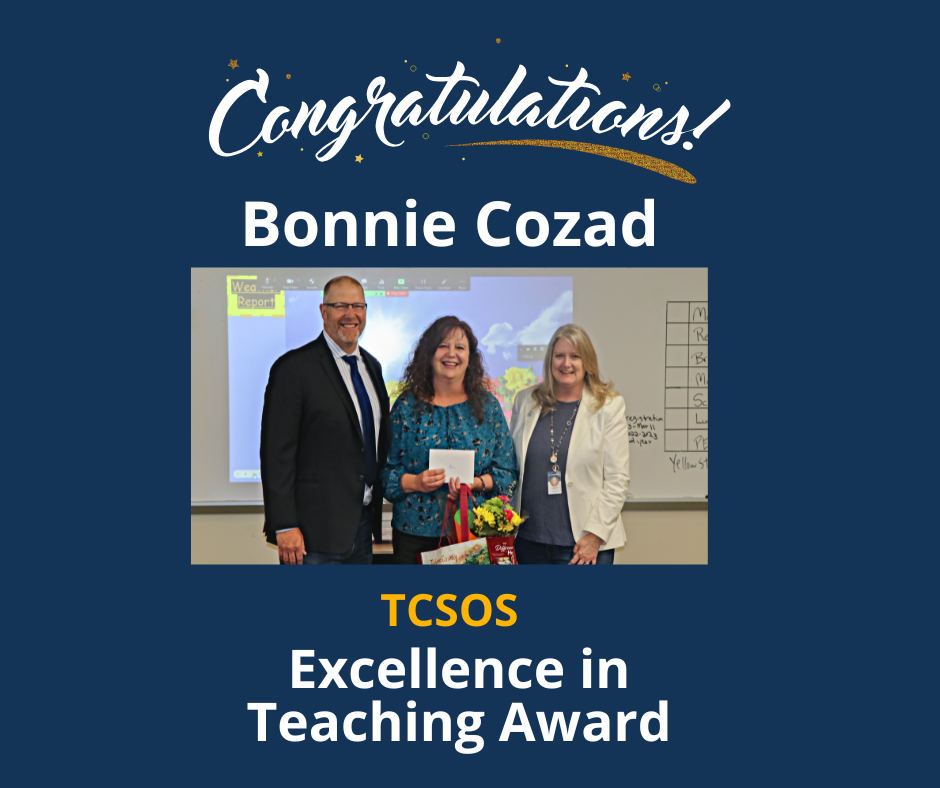 Bonnie Cozad
TCSOS Excellence in Teaching Award
Bonnie Cozad was awarded the 2022 TCSOS Excellence in Teaching Award.
Bonnie is a special education ILS teacher and has changed the lives of all her current and past students in a profound and lasting way. She is committed to developing life-long skills and a love of learning for her students through working tirelessly to implement individualized programs for them based on their unique learning needs.
Bonnie's commitment to her students' learning extends beyond the classroom. On occasion, she has students that cannot attend in-person instruction for various reasons. Bonnie has created alternative solutions in collaboration with the student and family to support continued access to learning. It is apparent in every interaction Bonnie has with her students how deeply she cares about their learning and growth.
She is vested in knowing her students' interests and post-secondary plans beyond academics.
Bonnie and the instructional staff embody the approach of addressing the whole child's needs and providing quality instruction in class and facilitating extracurricular activities that align with each student's interests and plans for the future.
Bonnie's devotion to preparing her students for their post-secondary goals is unmatched through rich learning activities and community-based instruction. TCSOS is fortunate to have an educator that cares deeply for her students, her colleagues, and the school community!