The California Department of Education and Renaissance are partnering in support of Superintendent Tony Thurmond's statewide literacy campaign. This bold new initiative will ensure that every California student learns to read by third grade by the year 2026, and includes a robust effort to provide one million books for students and families across the state.
In order to get books in the hands of all California children, Renaissance is providing access to myON digital books and news articles through a special statewide shared account for a limited time.
Students already reading on their own myON accounts need to continue using their own logins in order to benefit from the personalization features.
Students who do not currently have their own personalized myON accounts will be able to begin reading myON digital books and news articles immediately on the special California statewide shared account.
This partnership will bolster CDE's efforts across the state to promote literacy by providing access and equity, supporting reading inside and outside of school, and focusing on growth and intervention.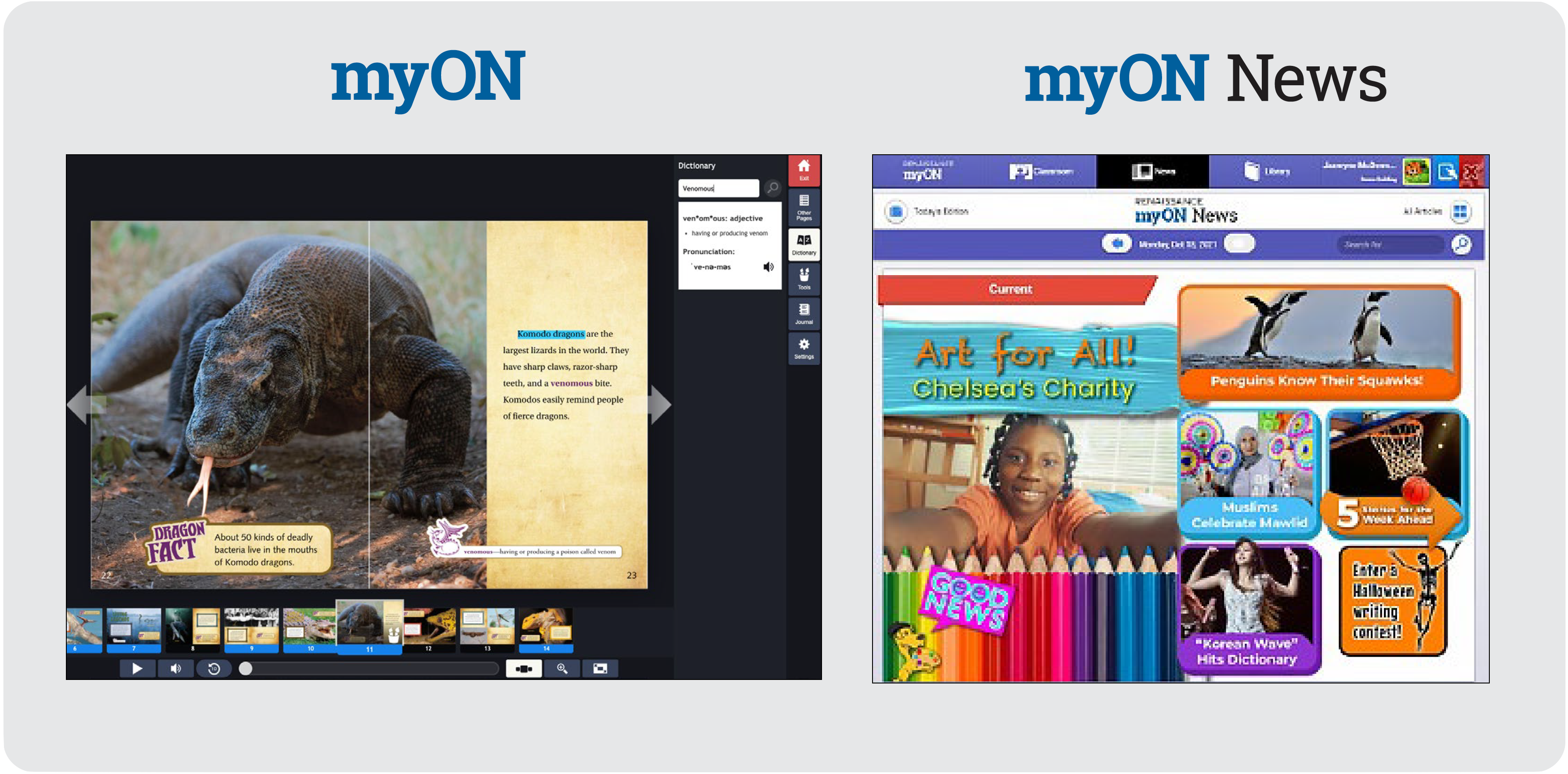 Limited-time shared account access for students who are not already reading on myON personalized accounts
Renaissance will provide a single statewide shared login to the myON digital library and news articles that will be used by students across the state from early December until the end of January 2022.
This will provide a simple and immediate way for all students who are not already reading on myON with their own personalized accounts to access unlimited reading opportunities, at home, at school, and in the community.
This shared account version of myON includes:
Limited-time access to the 7,000+ books in the myON core collection and daily news articles through a shared account
Reading tools include natural-voice audio to model fluency and text highlighting
Options for students to read online or offline, even in low-bandwidth environments
Up to 20 books at a time can be downloaded to read offline with a free mobile app
Spanish-language resources:
10 percent of the titles in the myON core collection are in Spanish
All daily news articles are available in Spanish
This shared account access will provide all families with opportunities for rich literacy experiences now, regardless of their circumstances.
We already know that when students learn to read, they can read to learn anything, and that this is a gateway skill that can carry them to any point in their life, career, and in their journey. We also know that when students don't learn to read by third grade, they are at greater risk to drop out of school, and they are at greater risk to end up in the criminal justice system.
From my standpoint, this is a strategy that is about many things: helping children learn to read, but also putting them on a path that can create success for them. Our students can learn and overcome obstacles, but we have to give them the resources to do that, and now is clearly the time to advance this.
A Rare Celestial Treat in October 2023 and April 2024 – A Learning Adventure for All